Description: TCP/IP is based on a four-layer reference model. All protocols that belong to the TCP/IP protocol suite are located in the top three layers of this model.
Application: Defines TCP/IP application protocols and how host programs interface with transport layer services to use the network.
Transport: Provides communication session management between host computers. Defines the level of service and status of the connection used when transporting data.
Internet: Packages data into IP datagrams, which contain source and destination address information that is used to forward the datagrams between hosts and across networks.
Network Interface: Specifies details of how data is physically sent through the network, including how bits are electrically signaled by hardware devices that interface directly with a network medium, such as coaxial cable, optical fiber, or twisted-pair copper wire.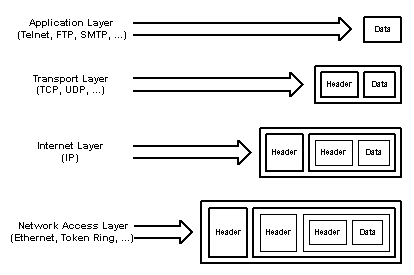 Another feature of TCP/IP is testing of connections. Usually, when connecting Windows 95 systems, NetBEUI is used as network protocol, because the Microsoft "win95-server" can be most easily setup with NetBEUI protocol (you can also use TCP/IP or IPX/SPX, but that is a little more complicated). When you think that everything is setup properly, but you CANNOT get any connection, you need to establish first what went wrong in the complete setup.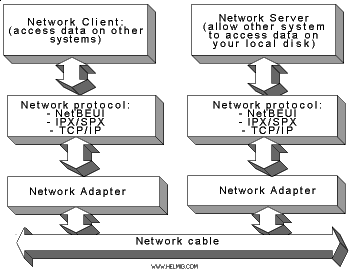 You also need to decide whether you have a Hardware or Software problem. For that, the TCP/IP protocol supplied with Windows 95/98/ME/NT4/2000 offers a small, but powerful tool called : 'ping'. TCP/IP PING can also be used to test WAN connections.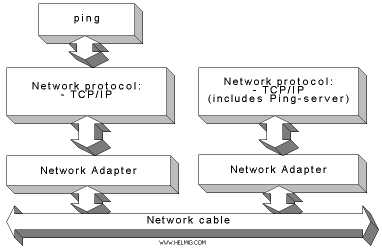 Now the question arises: What is ping actually doing? Remember the old war movies with submarines, where they are searching for each other sending out a search-signal, which sounds like 'ping' and where they get back an echo from another submarine? That is EXACTLY, what the 'ping' utility does in searching for other computers on the network!